Rotary Actuators
HLK-2200 - Camera Rotator
This is a derivative of the HLK-2150 Pan & Tilt and can be used as a rotational platform for cameras in the horizontal or vertical positions. As with the Pan & Tilt it incorporates the same pan sub-assembly, with a rugged rotate shaft. It can also incorporate a high-pressure water line through the slip ring assembly for use in cleaning heads. Weight 2.1 Kg in water.
HLK-2260 - Heavy Duty Rotary Actuator
The HLK-2260 Heavy Duty Rotary Actuator is designed to rotate manipulator arms to enable access for inspection and positioning tasks. The double rack and pinion ensures a very robust arrangement, which has the minimum of backlash. Various mounting plates can be fitted to suit different mounting styles. Weight in water is 5.4 Kg.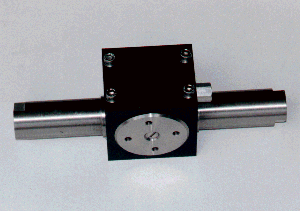 HLK-2290 - Compact Camera Rotator
The HLK-2290 Compact Camera Rotator has been designed for use with the new, modern, lightweight cameras. It is only 75 x 70 x 230 mm overall with a rotate of 360°. Constructed from plastic and stainless steel, it only weighs 1.5 Kg in water.